This is a recipe post. My first, and possibly my last. Compose yourself and hydrate, because you are not hallucinating.
I had a culinary epiphany while tipsy. Although I do not condone cooking while drunk for safety reasons, I encourage great ideas while under the influence. Write them down, and if they seem remotely reasonable the next day, give it a go.
I read a pin that said you could substitute all of the "wet" ingredients that go into a regular box of cake mix with one can of pumpkin. It sounded easy, but I didn't have any cake mix. I was not qualified to drive to the store, and The Boy was not home, so I was stuck. Then I remembered that I had a box of Krusteaz pumpkin spice quick bread I had been meaning to make, and I decided to do that instead. Then I discovered I had no eggs, so I couldn't make that. Well, dang. Then: EPIPHANY. I could replace all of the "wet" ingredients in the pumpkin bread with a can of pumpkin. I felt like a mad scientist, and even let out an evil laugh. Then I was glad I was home alone. The Dog doesn't judge.
But here is where things got crazy. I have been trying to figure out how make cookies with a Nutella-filled creamy center since the Nutella cookies I made. I have a bake off coming up with the Tampa Bay Lady Bloggers (they call it a "cookie exchange," but I know a bake off when I see one!) that I wanted to make them for. So I practiced.
Ingredients:
One box of Krusteaz pumpkin spice quick bread mix (seasonal item, so buy it now!)
One can of pumpkin (15 oz.)
Nutella
Melon baller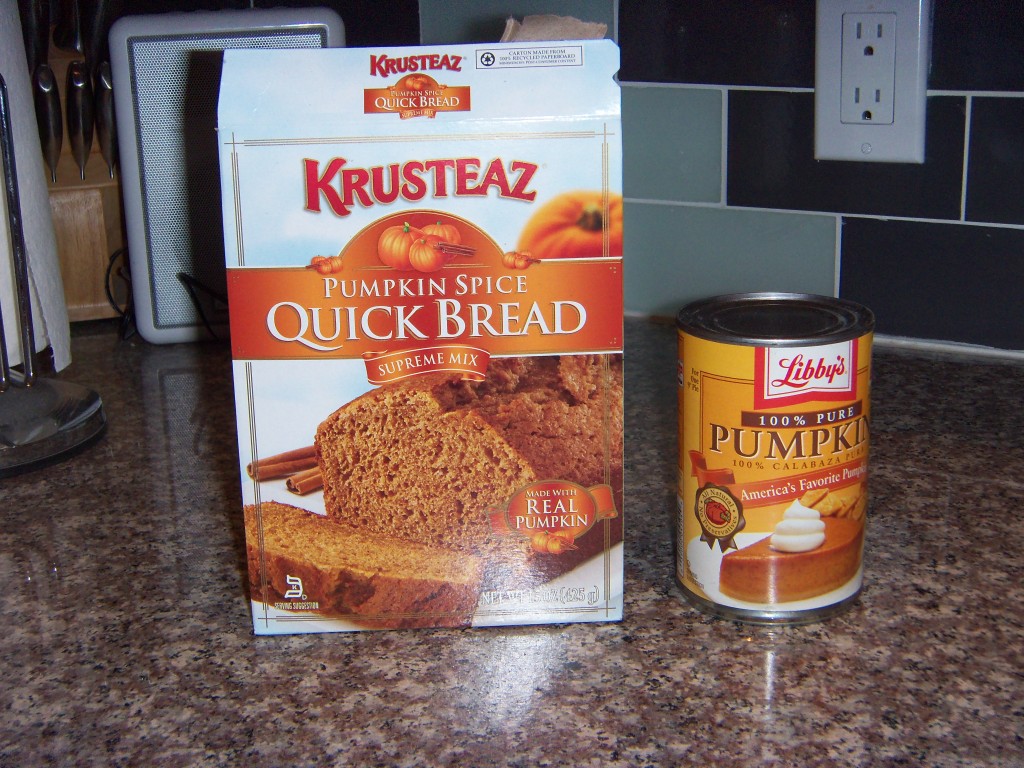 First I spooned a few tablespoons of Nutella into a small plastic container, and put it in the freezer to harden. I mixed the Krusteaz mix with the can of pumpkin, and spooned those into a greased muffin pan (I actually used my silicone reusable muffin holder things, which are awesome). Then I retrieved the Nutella from the freezer, and scooped out balls using my melon baller.
You want it to be hard enough to scoop out clean, but if it has been in the freezer too long, you can just let it sit for a few minutes to soften up. I found that about 30 minutes in the freezer was a good amount of time. There is a window of opportunity for scoop-ability. You may have to play with it a bit. Accidents can be eaten.
I then shoved the Nutella balls into the raw muffin mix as it sat in its little muffin cups (is there a term for these things? I can't think of it). I used my finger to cover the Nutella ball so it was just not showing from the top. Then I baked my muffins for about 17 minutes. You can do the poke it with a stick test to determine if they are done, being careful to avoid the creamy Nutella center.
Then hold on to your socks and your bodily fluids when you dive into the first one.  Holy crap they are amazing – so moist and flavorful and NUTELLA.  And so easy. If I can do it, honestly anyone can. Even a drunk house plant.