Have you ever wondered if the stuff people post on Pinterest is true? Well I have, and I test them all so that you don't have to, 'cause ain't nobody got time for that.  Click here to check out all of the pins I haven taken on. You might be surprised by some of the results!
Most Pinterest users have seen this picture (from Visualize Us – click picture for link):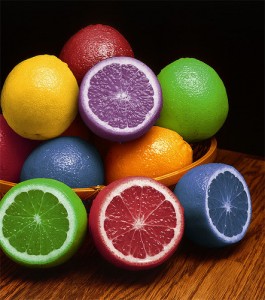 The pin states that you can inject food coloring into lemons and insinuates that this is photographic evidence of the results.  When you actually go to the source of the photo, the first giveaway is the caption – "excellent fruit photo manipulations," a/k/a Photoshop. Never one to be defeated by simple blatant debunking, I tried it anyways.
I used a big metal turkey baster with a sharp stabby end for the injection.
I wiggled the baster around a bit, injecting as much food coloring as I could.  However, lemons by their very nature are pretty "full."  They can't take on much excess liquid. Therefore, it wasn't long before the lemon was spewing blue.
I rolled the lemon around a bit, squeezed him gently, dubbed him Lemony Snicket, and let him chill on the counter for a few hours.  Lemony Snicket did not get blue in the face. He did not get green with envy (yellow + blue = green??).  He was pretty blue from the injection itself, but not in the literal sense.  Finally, the moment arrived (when I remembered there was an injected lemon on the counter):
Well needless to say this was a pretty underwhelming result, and I smell some lemon-scented BS, if you know what I mean.
Pin BUSTED.  (Hope this saves you some time and trouble, Marty!)