Have you ever wondered if the stuff people post on Pinterest is true? Well I have, and I test them all so that you don't have to, 'cause ain't nobody got time for that.  Click here to check out all of the pins I haven taken on. You might be surprised by some of the results!
I am really pulling for this one.  It looks so cool!  All of the elements are there, too:  water, fire, ice, wind, acetone … let's get down to business.
The pin in question claims that you can "cut" a glass bottle (in reality cause a thermal fracture due to differential expansion) by soaking a cotton string in acetone-based nail polish remover, wrapping it tightly around the bottle, setting it on fire, and then dunking it in an ice bath.  Sounds easy enough.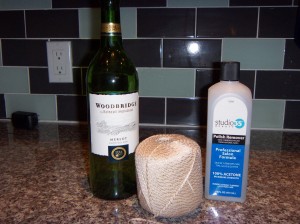 The Boy was skeptical, and said you would have to get it REALLY hot, and then REALLY cold immediately to cause the glass to break along the clean line.  I agreed, but remained optimistic that it would work.
I chose a length of cotton string, and wrapped it very tightly around the bottle three times. (Note: it is not preferred to drink an entire bottle of wine right before attempting this task.  I did drink this bottle over the course of a few nights, and every time I poured a glass I declared that I was "drinking in the name of science!" which frankly everyone should do more often.)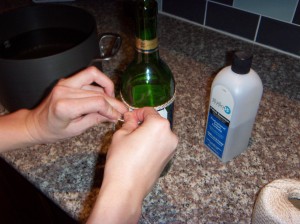 I removed the string, and soaked it in 100% acetone for at least 30 seconds.  Then I fished it out and slid it back onto the bottle.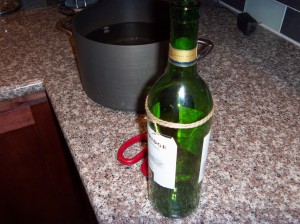 Next: light it on FIRE!!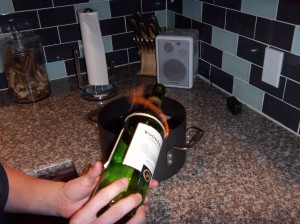 It didn't take too long for the flames to die out, and I immediately dunked the bottle in the cold water.
Nothing.  Nada.  Not even a gratifying crack.
The Boy was now interested in taking a shot at it.  Permission to light things on fire in the kitchen granted?  Count him in!
We chose a longer length of string, and he wrapped it around 5 times or so.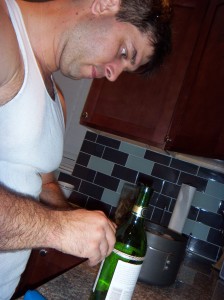 This time we dunked it in regular nail polish remover (with acetone), put it back on the bottle, and lit it.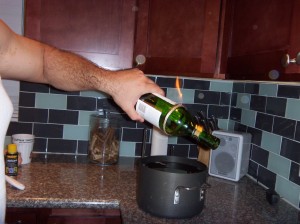 The flames were about the same, but did burn longer.  I also added more ice to the ice bath to bring the temperature down.  Flames started dying down, bottle took a swim, and …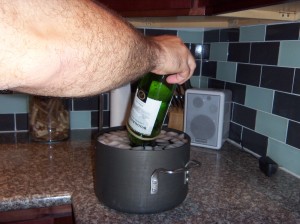 NOTHING.  I was just about ready to break this bottle the old-fashioned way.
Last ditch effort.  The Boy sacrificed a shoelace from his yard work tennies.  We soaked this baby in 100% acetone (there should be no difference between the regular nail polish remover and salon strength stuff, because its only purpose is to be flammable, and the acetone is the ingredient that is flammable, so the salon strength 100% acetone should work best).  We let it soak for about a minute, during which I emptied our ice maker's contents into the ice bath.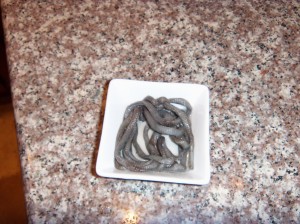 Then, we squeezed the shoelace around the bottle, backed away from the kitchen cabinets, and got our pyromania on.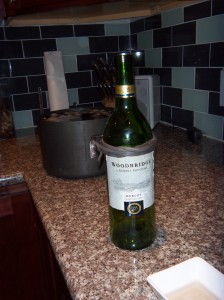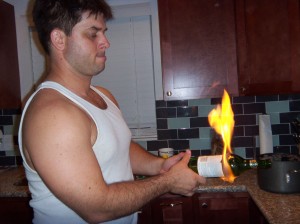 The Boy, holding a flaming borderline-Molotov cocktail, suddenly started looking up and all around the ceiling, and then said "Oh thank goodness we don't have any smoke detectors."  Thank goodness?!?  This burned for well over a minute, and as soon as it started to go out, The Boy dunked it, even hitting it against the bottom trying to cause a fracture.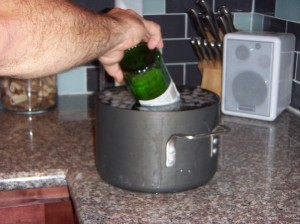 BIG FAT NOTHING.  And it caused the kitchen to smell vaguely of nasty burnt shoelaces.  Yum.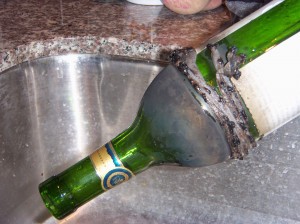 I haven't been this disappointed since NKOTB got back together (why can't we just have our lustful childhood memories and leave it at that?  Sigh).
Verdict:  Don't try this at home.  Liar, liar, bottles on fire (c'mon – I HAD to do it).