A few things have been happening around here … a few. The bathroom is veeeerrrrrryyyy slowly taking shape. I'll take you on the guided tour.
First we had to open up the walls in the existing closet, so we could get a handle on where and how this breaker box is kindly moving its metal arse out of our way. (Oh, and I lied when I said I was not going to offend your eyes with any more pre-fancy-camera pictures, because there are still a few ones left …)
We used a utility knife to score along the ceiling and at joints with any walls that are staying, so that we do not ruin that drywall in the process. Then we got to work ripping out the drywall to expose everything.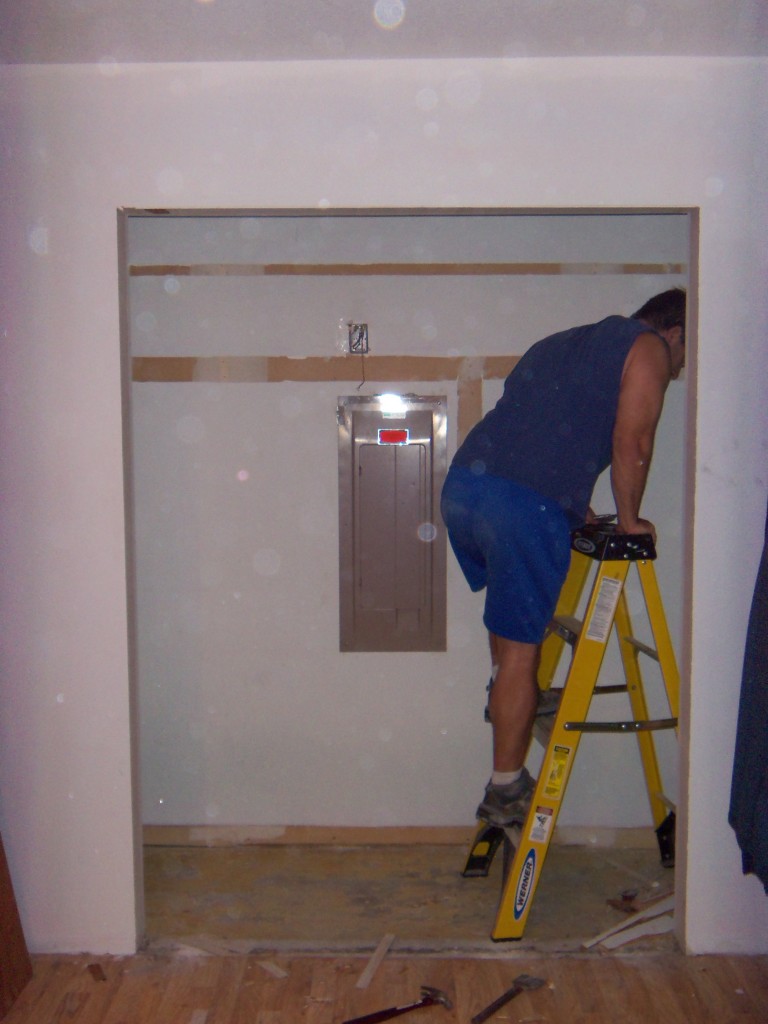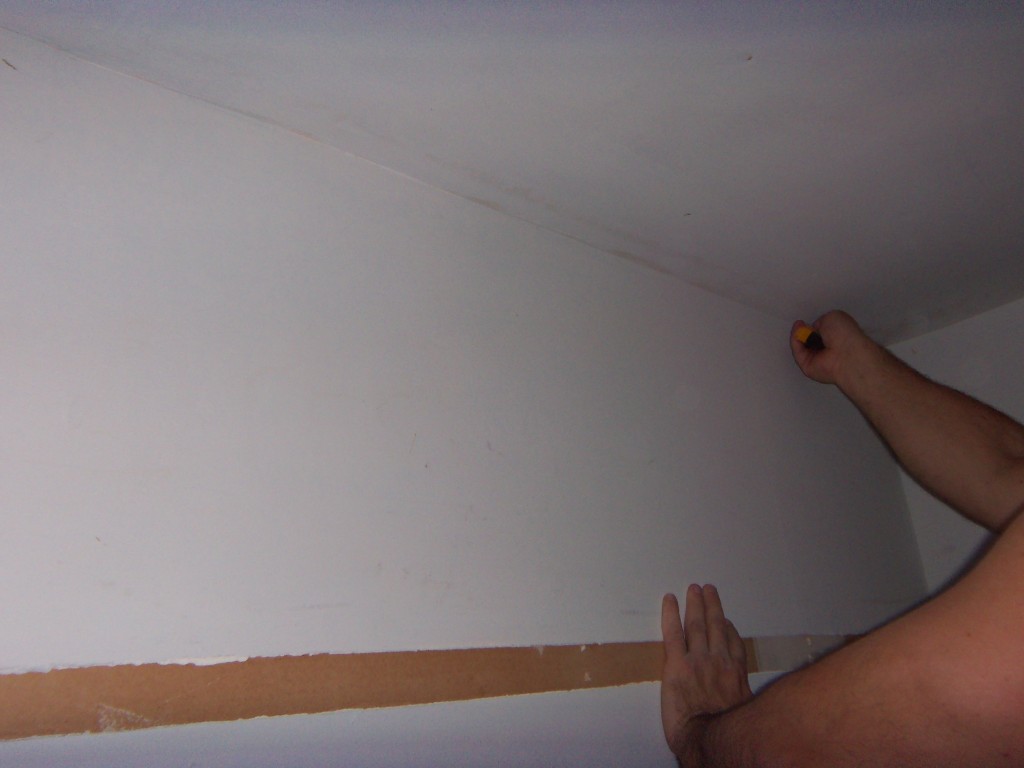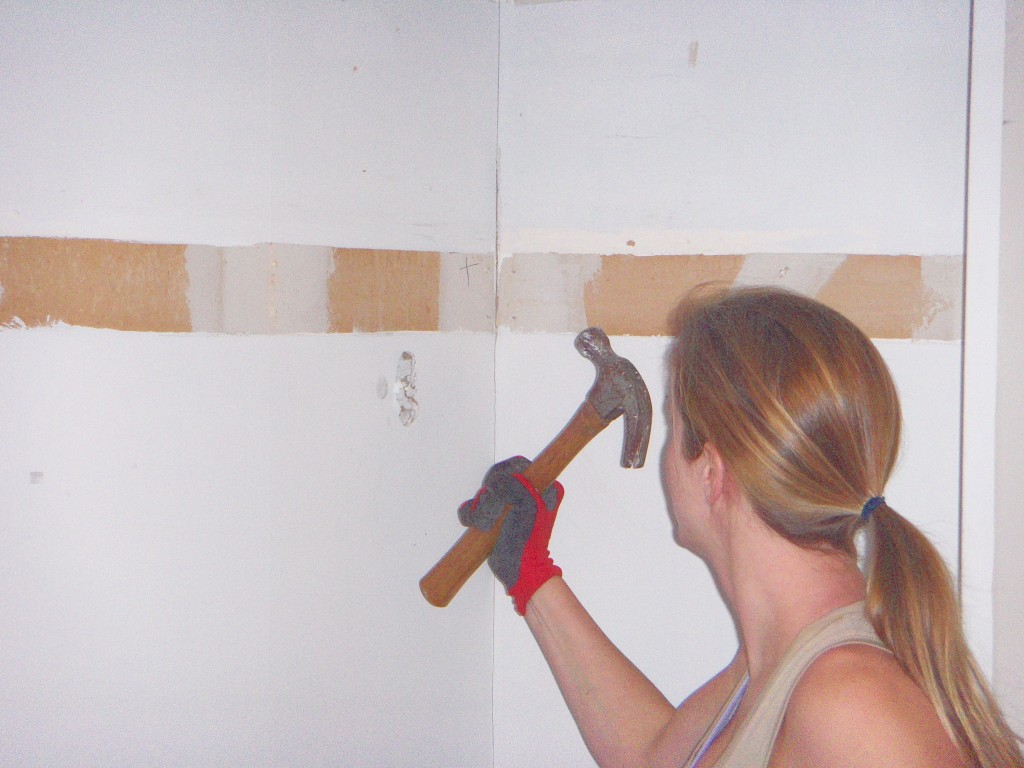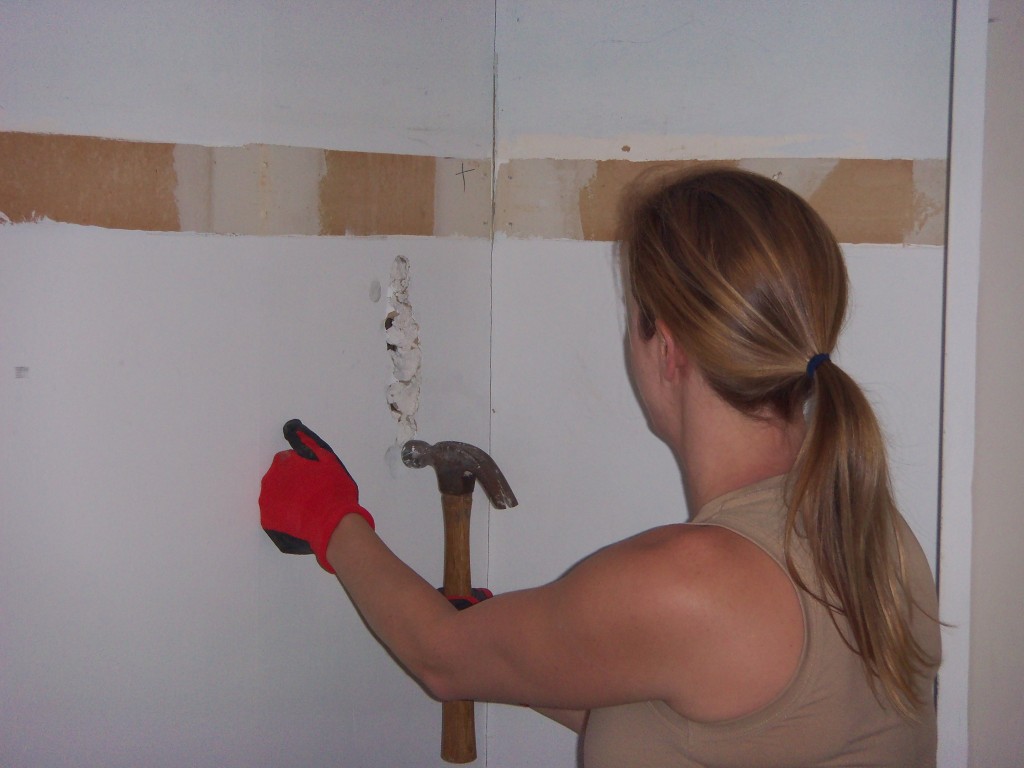 I wear the strangest outfits to demo. Probably because I suddenly get a hankering for some demo on a weekday when we are lounging on the couch, so I have an odd combination of lounging/working clothes on. Here is the breaker box with the panel removed.  Kind of scary and intimidating, huh?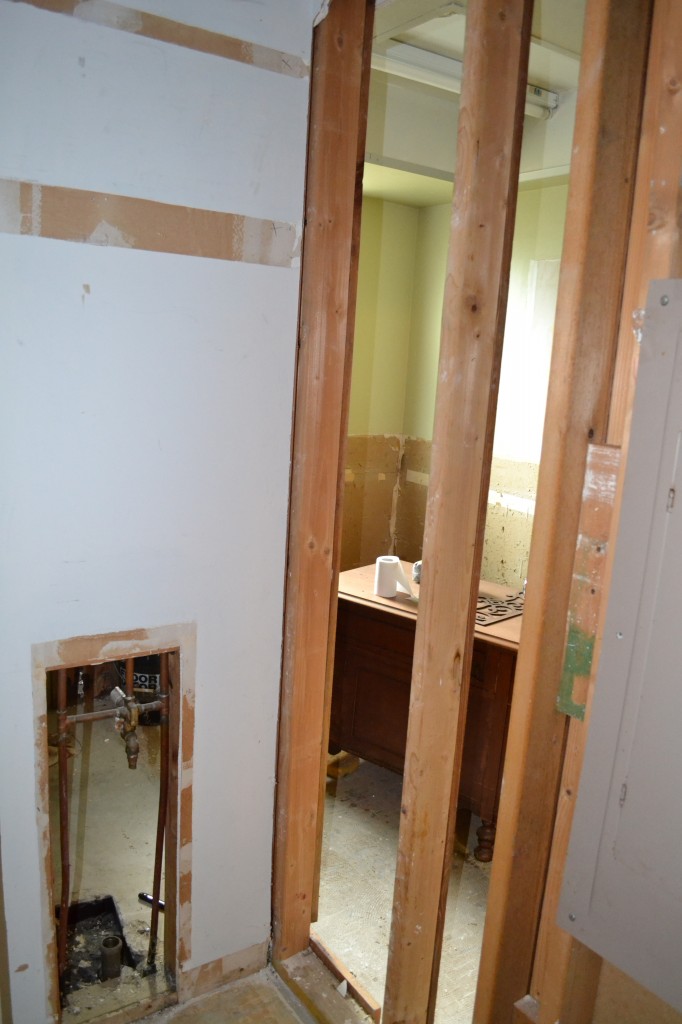 At this point The Boy declared a "true master bathroom" since we could access it from the bedroom. Yay?
Once we got it all exposed we had a better idea of what we are working with, but we promptly put the cover panel back on the breaker box. We were both nervous with it being exposed! Also, I am quite certain we are going to leave fun artifacts (our tools!) in the walls when we close everything back up, because someone in our house (The Boy) loves to just put tools haphazardly around a work space.
We followed the same procedure for removing the walls enclosing the hallway closet, and had a little fun with it: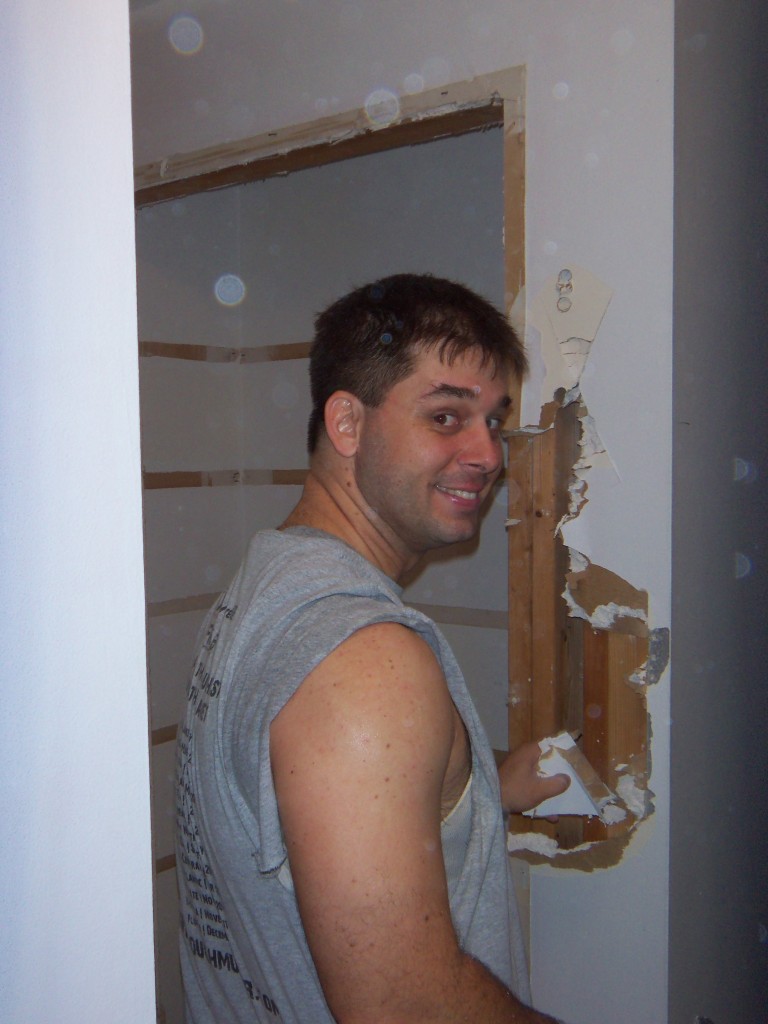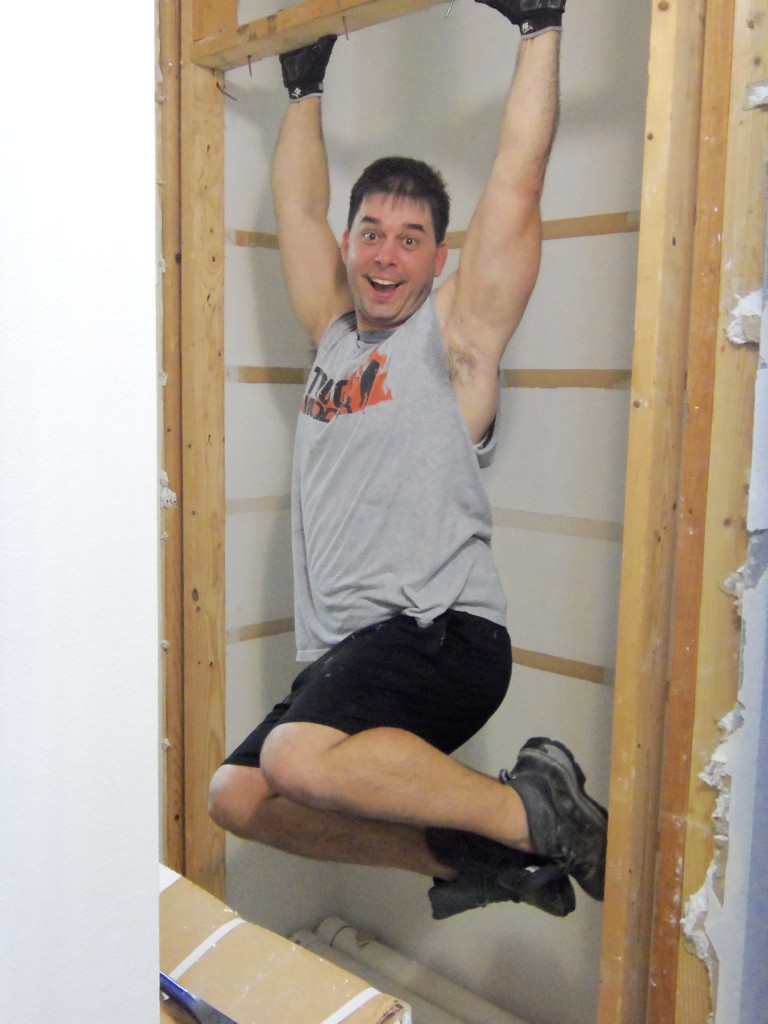 So special. We took a similar photo of me, but it is horrifying, and if I posted it my mom would know I was doing demo in my fuzzy slippers, and lecture me, so I didn't.
This is the long and short of where we are at with demo. We have plenty more drywall to take down, but we are waiting to remove the drop ceiling in the bathroom until we have drywall guys lined up to come in the next day, since we will then be exposed to the attic. We will also wait to remove the one wall in the hallway separating our bedroom from the rest of the house until then too. One reason is privacy, but the other reason is The Dog. She is on The Boy's schedule, which means she gets up at 5 a.m. on weekdays, and she would love to wake me up for playtime, but The Boy locks her out of the bedroom so I can sleep (love that boy!). However, this morning, I was very confused when I woke up to a waggling tail and a wet nose in my ear. By the time I fully roused she was gone, so I wondered if I dreamed it. Then I realized – she went into the bathroom, came into the bedroom through the wall, and left that way too! Now we have to make sure the bathroom door is closed. What a sneaky girl!
Now to the rebuilding phase, which still seems pretty far away, but I am getting excited about. I have found a few great deals lately, and put together a little "mood board" of sorts with everything we have so far. All of the items are sitting on the buffet which will be the vanity that we are STILL in the process of stripping so that we can refinish it.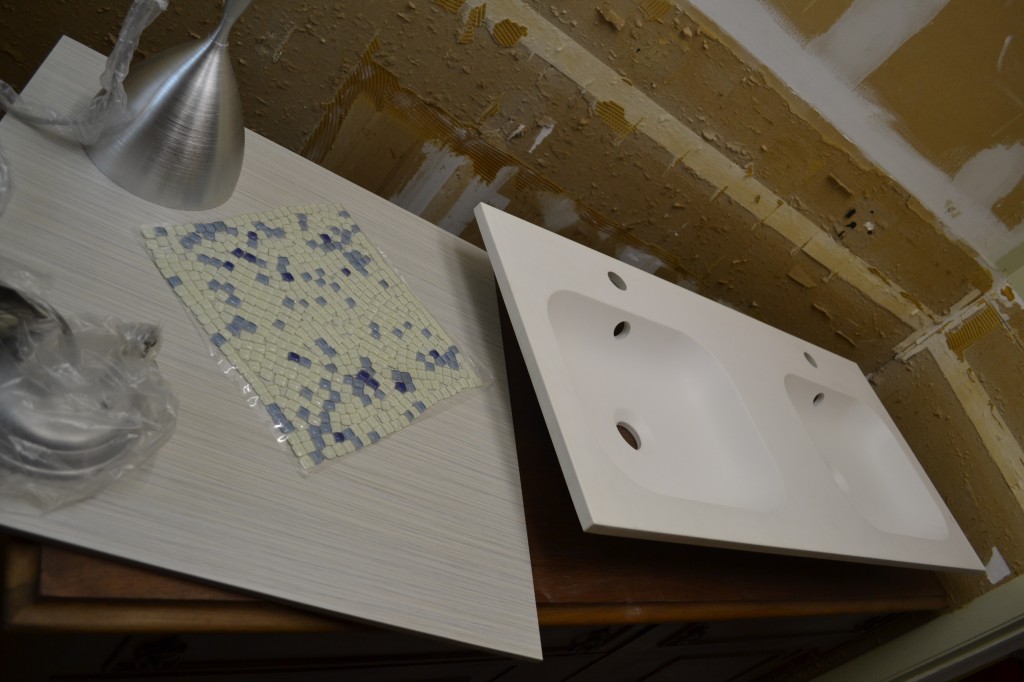 I went to Floor & Decor's annual liquidation clearance, and just as I hoped, a stack of the tile we want was on sale! The catch with their sale is that you have to buy the entire stack that is left to get the discounted price, but it was less than the amount we need, so it worked out.  We will just buy more later when we actually calculate the total amount our job will require. Also, we love the 12″ x 24″ tiles, and these were 24″ x 24″ tiles (huge!), but we will simply cut them in half. The key to getting good deals and renovating on a budget is to browse often, jump on good deals when you find them, and be flexible!
The pendant light (one pictured, but I bought two) came from the Habitat for Humanity ReStore for only $25.00 each. I wasn't sure about them at first, so I picked them up and carried them around with me while I browsed and contemplated. When I finally decided to purchase them, I went up to the register, where I discovered the double sink from Ikea! It isn't exactly what we wanted initially, but it was a bargain and it will look great. Since the lights had a tag on them with a brand name, I looked them up, and it turns out they retail for $117.00 each. Wow! I am glad I snagged them when I did!
I took a few close up photos so you can see the subtle colors running through the tile, which will be on the floor of the bathroom and the walls of the shower. We will use the pebble tile for the floor of the shower.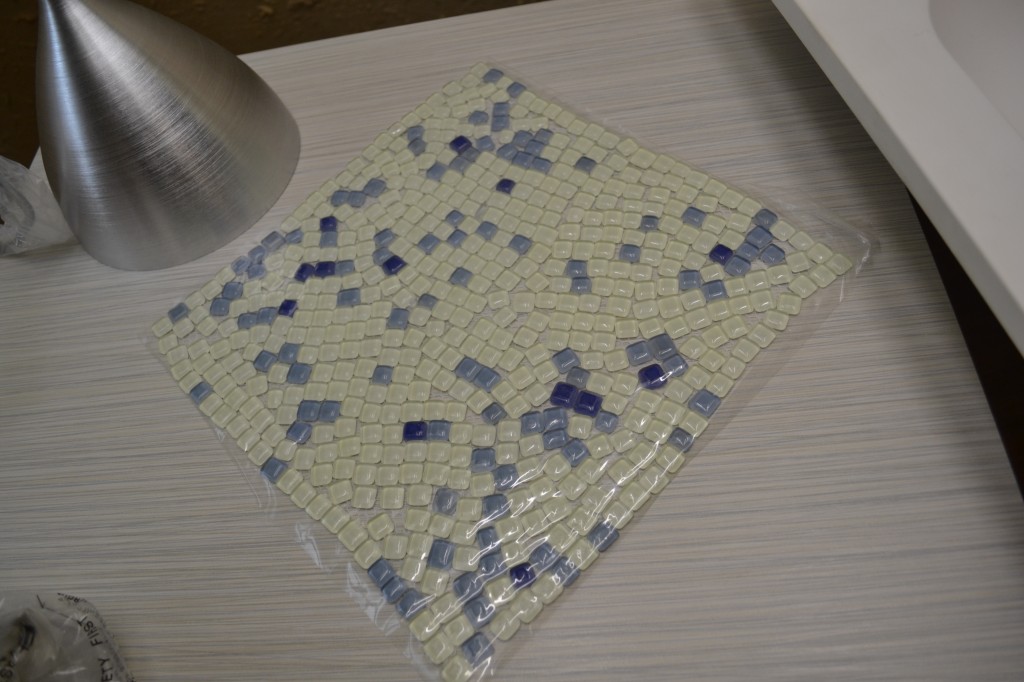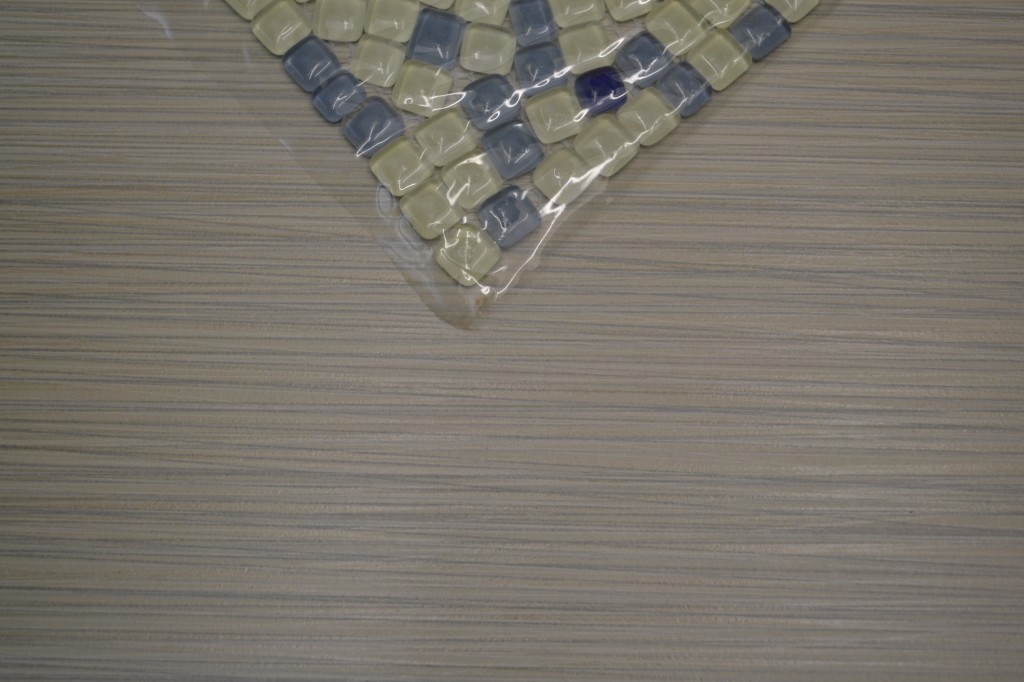 We haven't decided whether to keep the vanity lighter or stain it dark, but with all of these lighter items, I am leaning towards staining it pretty dark for some contrast. Not pictured is a shower system panel I bought from a guy on Craigslist for $50.00. It is sweet, and mostly chrome, so our debate over which metal finish to use for this bathroom was decided by that purchase. Finally, I bought this very nice closet system in mocha (click for link to their site) from yet another ReStore one county over. I saw them a long time ago when I was in there, and they posted on Facebook that they were going on sale, so I rushed over as soon as I could. Score!
Although I am happy with the progress we are making, while the bathroom renovation is ongoing, our office looks like this:
Solution? Close the door. So far, it is working.