Have you ever wondered if the stuff people post on Pinterest is true? Well I have, and I test them all so that you don't have to, 'cause ain't nobody got time for that.  Click here to check out all of the pins I haven taken on. You might be surprised by some of the results!
I am currently working on a top secret furniture project (update: it is done now!), and it requires me to "age" some wood (a/k/a beat the crap out of it) for that old, weathered look.  I guess it isn't so top secret anymore … but you will have to wait for results!
Staining wood, no matter how beaten it is, tends to make wood look pretty fresh and new. I don't want that, so I was looking for some stain alternatives on Pinterest, and came across this:
http://www.moneypit.com/article/natural-non-toxic-wood-stain-coffee-berries-and-more
There are a lot of ideas here, but the one I really wanted to test was the steel wool in vinegar one, since I think it will work well for my project.  I had a small amount of both ingredients laying around, and I just wanted to make enough to test, so I combined them in a container, and let them sit for exactly one week.  Fast forward to this:
Pretty interesting.  I got out my rag, and wiped down a scrap piece of oak flooring.  I was pleasantly surprised by the results!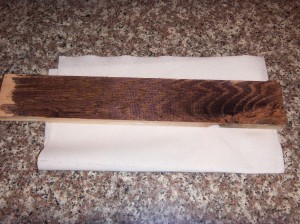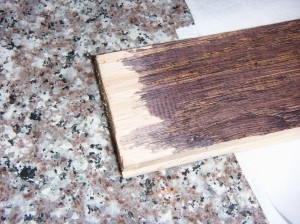 It looks a little darker in person, which is best shown in the last picture.  Although the article described a "rich reddish hue" it is actually more brown, which I don't mind.  I do wonder if I used a larger steel wool to vinegar ratio than recommended, and perhaps using less steel wool might make it lighter.  Either way, I am excited it worked and eager to get moving on my furniture project!  (Hint:  it will go in the living room and does not yet have a name, but I am leaning towards Madonna!)