I am very excited to share the progress of our bathroom demo, but I hate to show tasks that are not quite complete, and we have a little ways to go (like, I don't know, removing a bathtub?). Therefore, The Boy and I will finish up demo this weekend and share it next week.
In the meantime, I have been furiously Googling, Craigslisting, Pinteresting (Pinning?), and thrifting in an effort to find the things I want/need for this bathroom. Budget is tight, ya'll. I was not able to share all of those gritty details for the last bathroom, because this blog wasn't born in time (she's a late bloomer).  This time around, you just TRY to stop me!
Here are the big ticket items we need:
1. Tile (for floor of bathroom and walls of shower):  We are pretty sure we have settled on these tiles at Floor & Decor Outlet.  In the last year of us stopping by to say "hello" to them every time we are in the store (which is embarrassingly often), they haven't gone on sale.  We may have to pay full price, but they are actually very affordable in the expensive world of tile.
2. Tile (for floor of walk-in shower):  We purchased this tile at Floor & Decor's end of year clearance last year.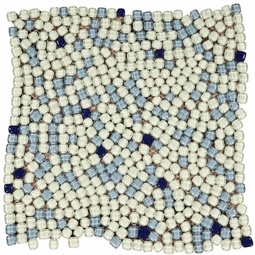 I loved it (picture me petting it while talking sweetly to it, because that happened), the price was right, and I cannot resist a deal. I had to pull the picture from my Master-ish Bathroom Pinterest board, because I cannot find this tile on their site anymore. Discontinued I suppose? Thank goodness I bought it when I did!
3.  Vanity:  As we did with the last bathroom, I am looking for a dresser/buffet/sideboard we can transform into a vanity, and I think I have finally found it on Craigslist (fingers crossed!). Here is the picture from her ad: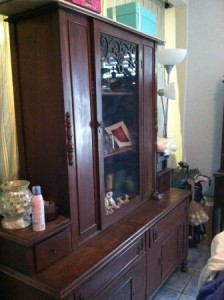 I have been emailing with the very nice owner, confirmed that the hutch detaches, and will head over today to check it out. I am not saying I will definitely buy it, but I am bringing the truck and the blankets and the tie downs and the cash and praying for no rain JUST IN CASE.
(Update:  She is mine!!  I played hopscotch with two adorable little girls waiting for someone to get there to help me load it.  You never know what you will encounter when buying on Craigslist, but so far I have had nothing but really positive experiences.)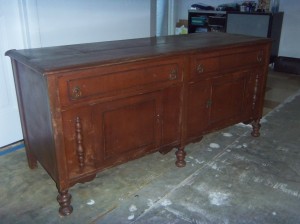 I was hoping to use the hutch as a cabinet and hang it above the toilet, but it is much too large. I love it, though, so we will figure out a use for it: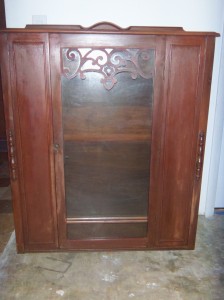 4.  Sink (or 2): Now that we have the "vanity" picked out, we can figure out what kind of sink(s) we want. The one green rusting sink we previously had was causing a rift in our relationship twice daily, with both of us pushing and screeching "moo eee!" (that's "move it!" with your mouth full of foamy toothpaste). I look forward to the day when we can both brush our teeth while staring longingly into each others eyes (ok, maybe just without throwing elbows). Practically speaking, since we will be altering a piece of furniture to accomodate, it makes more sense to have a large sink with one drain, but two faucets.  I found this sink, and we both fell in love with it, although The Boy is probably not sitting at work picturing himself bathing in it (doesn't it look like a tiny version of an amazing giant free-standing bathtub??).
We would put two faucets, near the back corners, to make it a two person sink. Normally I find the item I want, and then search the internet high and low for the best deal. Everywhere I look, this sink is still $419.95. EVERY. WHERE. That would be quite a blow to our budget, so we will see how it pans out.  (I WANT THIS SINK.)
5.  Toilet:  We have strange names for everything, and have been calling our puke green throne the "turtle." This turtle's gotta go. I know what you are thinking – "Whaaaat?  They don't want to keep that lovely green turtle??"  This may be a surprise, but no, we don't.  Especially not after this incident:
Imagine getting out of the shower, after having used this turtle, only to see this ENORMOUS frog hanging out in there. He is lucky I didn't pee on his huge green head. Really, I am lucky he didn't jump on me mid-stream and scar me for life. Small miracles. The point that I am trying to get to is that I purchased a toilet at Home Depot not long after buying the house, and it has been sitting in its box in the garage ever since. It is nothing fancy, but it is new and white and was on sale (a year ago, when I imagined we would replace the green turtle, but we ended up just replacing the toilet seat as a temporary fix).
6.  Fixtures (faucets and shower):  I have probably done the least research in this area so far.  I know we want oil rubbed bronze, and we would like to splurge on some body sprays and a rain showerhead, as cheaply as one can possibly "splurge." (Oxymoron? Probably). I do anticipate that this group will be the most expensive of all the purchases. I have pinned a few fixtures I like, but I have not conducted a full hardcore search for the best prices.
7.  Lighting:  I will be making two hanging pendant lights for this bathroom, and ideally I would like to find two large glass urns or something interesting like that.  I have been casually browsing at HomeGoods, Marshall's, TJ Maxx, thrift stores, etc., but I will know them when I see them.
I love seeing a project come together. It doesn't always turn out the way I envision it initially, but ultimately I am always pleased with the results.  Here is to hoping this bathroom doesn't take 10 months to finish! Now back to demo …