I have a story to tell.  It has taken me awhile to piece it together, mostly because work. And wedding. And life. But a little because I needed a "cooling off" period before I could compose an eloquent description instead of a profanity-laced tirade. I hope I can remember all of the dirty details and haven't blocked them all out.
In quest of a good deal (oh, you good deal, you, always taunting me!) I searched Craigslist for hardwood flooring. Last time I did that, we ended up with this: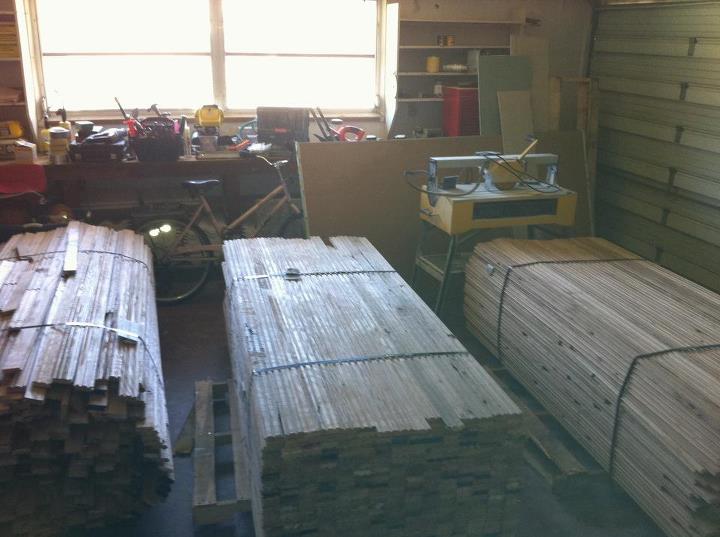 Yup. That was fun. These three pallets of oak factory seconds were intended to floor the entire house. They covered the three bedrooms – barely. We were left with the fun task of trying to find wood to "match" the rest of the house, which was about 500 square feet, or 550 accounting for 10% waste. I came across a company out of Georgia selling pre-finished cabin grade solid hardwood flooring, the same width and thickness of our existing floors, in a variety of colors, at an incredibly low price. BINGO! My only concern was what size fit to you? (You must follow the link and read that post to have any clue what that means.)
I called on a Friday and spoke with a woman who shall remain nameless. Let's call her … Schmandy.  Schmandy was very helpful and informative. She told me a "big box" store I could go to and get a sample of the color to ensure it matches the floors we already laid and stained ourselves. I did so, and was pretty pleased with the outcome. Bright and early on Monday morning I called Schmandy.  She was out so I left a message. <twiddle thumbs>
My day quickly got away from me and I realized she never called back. So I called her again on Tuesday. Schmandy wasn't available, so I left a message. I called again that afternoon. No luck. I would have simply explained my dilemma to the man who answered the phone, but the fact that he was unable to pronounce the MOST SIMPLE of all company names possibly ever to exist made me not instill any trust in him. I honestly wish I were joking, and that I could tell you the name of the company (my point is not to trash talk, so I won't), and then record my dead-on impression. It is stunning. Instead, I am taking the high road by vaguely ranting on the internet. We all have our strengths.
By Wednesday morning I wasn't messing around. I called and told Schmatrick (not his real name) that unless I was able to place my order today, I wasn't interested in ordering from his company. FINALLY, the owner himself called me. Apologized profusely. Emailed me the order form. All was well in the world.
I realize this post is getting too full of these pesky words and no pictures, so here: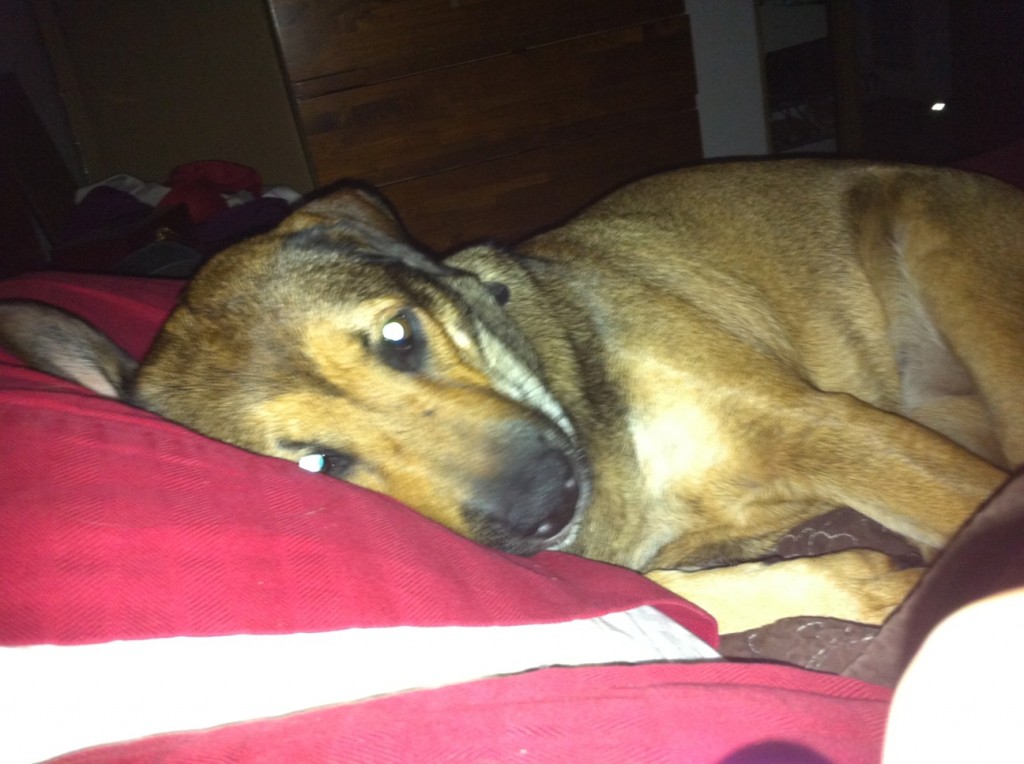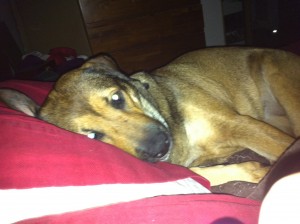 Whew, that was a close one.  I placed my order on Wednesday, with "guaranteed delivery" within a week. Schmandy is going to call me on Friday with my tracking number. Yay Schmandy!
I think you know where this is going. By Monday I'd heard nothing, I left messages with no return calls, and I started doing some research. Yes, Mom, should have done this on the front end, thank you. Hindsight.
Company's website? Gone. Secretary of State? No such record of this "LLC." The company name on my credit card? Completely different from the company I ordered from, but I track it down, and the phone number is out of order. I went into a panic, called my bank to report fraud, opened an investigation, could hear the judgment of the lady at the bank as I told the story ("you did WHAT, honey?!"), and called the "company" to tell them I wanted my money back. Eventually, a very nice woman called me back.
She allayed my fears that this wasn't some fly-by-night company that took my money and ran. I explained the entire – I mean ENTIRE – story, telling her exactly what I thought of each and every employee. It turns out the website had been hacked. The "owner" turned out to not actually be the owner, although he had told everyone that he was and they fired him. Schmandy was about to get a pink slip. The poor fellow answering the phone? Well I'm convinced he is actually mentally handicapped and I will refrain from poking fun at him for the obvious reasons. I am completely serious, by the way. Not kidding.
If you think the story ends here, take a bathroom break and get a beverage. This ride ain't over.
The day I was supposed to accept delivery is the day my shipment actually left the warehouse. This is problematic for a million reasons, mostly because when you are having a pallet arriving at your home, you must be home for delivery, as well as the fact that we set aside an entire weekend to lay the floors, which was now not happening, and we were booked up for the next three weekends. I accepted our fate. I mean, this was a REALLY GOOD DEAL.
Eventually I ended up with tracking information, and could see my shipment moving. Halle-freaking-lujah. I scheduled delivery for after 1 p.m. on Friday, a full week and two days later than the initial "guaranteed" delivery date.
I was pulling into the courthouse parking lot that Friday morning, when I got a call on my cell phone. It was 9 a.m. and the shipping company was at my house. Why you might ask? I clearly scheduled my delivery for AFTER 1 P.M. FOR THIS VERY REASON. I patiently explained to the delivery man that he was early, and that I literally spoke with three different people at his company to confirm the appointment. He not-so-patiently explained that I was his first stop and my pallet was blocking the rest of the contents of his truck. I politely explain that this is HIS problem, because I made an appointment for AFTER 1 P.M. He tells me he is going to leave the pallet in my driveway. I tell him I WILL HAVE HIM FIRED by the end of the day if he does so. I tell him I can be there by 10:15. He says he will call me back. I got out of court, racing home, calling the company, making sure he is still coming. I got home – no delivery man. Three more phone calls to the shipping company later and I discovered that my pallet was back at the main warehouse hub. I told them that I want my pallet, I want it TODAY, and I will demand a return of my shipping money if I do not receive it TODAY. TTTTOOOODODDDDAAAAAAYYYYYYY!!!!!!!! I was losing it in ways that words cannot express.
So I went to the office. A few hours later a very nice man calls me, says he has a pallet and was asked to "specially" deliver it to me. I am sure he was told that I was a raving lunatic and to arrive armed, but I didn't care at that point. I left work early to meet him at home. I mean, who needs a full day at work to do their job? Not this girl!
The guy was so very nice when he explained to me that due to all of the moving, the pallet itself was absolutely destroyed. This meant that he could not use his fancy little pallet-moving dolly to wheel the several hundred pounds of flooring from the street into the garage. He had to do it by hand. I sighed, ran inside to change, and came back out in gym clothes to help. The guy told me several times not to help, but I knew he was actually relieved that I didn't listen. He started taking the boxes of flooring off the pallet and putting them at the back of the truck. I took them from the truck, carried them up the driveway, and stacked them in the garage. They only weighed about 50 pounds. Each. And there were only 30 of them.
Around box number 3 is when it started raining. Not a downpour, but just enough that I knew, without a doubt, that the universe was spitting in my face. Over and over and over again. So I laughed, I cried a little, and I moved 1,500 pounds of flooring. In the rain.
It was so worth it.